| | | | |
| --- | --- | --- | --- |
| plunge into 2014 at MooMba Beach | | | |
Thursday, 02 January 2014 10:15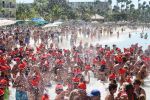 A record number of happy people jumped into the ocean at noon last Wednesday morning, celebrating the beginning of the New Year at MooMba Beach. More than 400 visitors and locals alike ran like the wind at the signal of DJ Rico Rijk of radio Fresh FM, the station that accompanied the event with great music.
Spectators watched as the red-hatted crowd took a gleeful dip before running to the pea soup stand, where countless cups of Dutch pea soup and Unox sausage were doled out. A total of five hundred red Unox hats and 15 gallons of pea soup were distributed, told marketing manager Kevin of the Aruba Wine And Dine group afterwards.
The jump into the ocean, the Nieuwjaarsduik in Dutch, is a tradition that started in 1965. Now more than 46,000 people take a dip worldwide; 10,000 of them in Scheveningen, Holland.  Water temperatures greatly vary per location, as you might imagine. In Holland the temperature was very reasonable 8 degrees – but what a difference with Aruba!
Photos show the warm-up session of zumba courtesy of Miss Bikini Aruba 2013 Sharon Puy and many happy revelers who welcomed 2014 in great style. A Happy New Year to everyone!
Comments
(0)

Write comment