| | | | |
| --- | --- | --- | --- |
| Rapper, Singer, Performer Pete Philly confirmed as Music Teacher in Art Rules Aruba #5 | | | |
Tuesday, 13 May 2014 14:45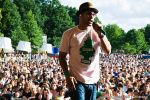 Dutch/Aruban singer, songwriter, producer and phenomenal performer Pete Philly will be coming to Aruba to teach Art Rules Music and Performance.
Presented by RBC Royal Bank, Art Rules Aruba, which kicks of on July 5th, has become the biggest summer program offering kids the opportunity to take part in 2 weeks intensive workshops with the best international artists from around the world. Celebrating 5 years, organizers are going bigger with the teacher's pool, adding several celebrity artists to the program to teach!
Pete Philly being one of the 15 to come to the island this years has been critically acclaimed in over 30 countries, toured the world wide and won anything from the highest music awards, to prestigious arts and communication accolades.
His work is hard to held by one title, whether it's for the ground breaking music he put out with partner Perquisite (known as HipHop duo Pete Philly & Perquisite) or his solo work (Negro spirituals based Soul/HipHop music) in reinventing online music with his OpenLoops project and lets not forget his reputation as a stage performer. Pete Philly's last performance on the Island, for the Dutch Royal Family was nothing short of extraordinary.
Organizers of Art Rules are happy to finally have Pete Philly on board as a teacher, considering this has been in the works since 2012. As fellow artists Levi Silvanie (Curaçao) and Maikal X (Postman NL) who will also be a teaching Art Rules Music & Performance, Pete Philly is extremely exited to once again come home to his roots and connect with the local youth; even planning to shoot his next music video with Art Rules students.
Calling all musicians, singers, emcees and performers. If you want the opportunity to work with some of the best artists in the music industry, this is your chance and If you love Music as much as Pete Philly, sign up online now by going to www.artrulesaruba.com/apply Fill in the application form, write your motivation letter and become one of the students to call themselves Art Rulers.
Comments
(0)

Write comment